CART BABY DOLL Figurines choco egg Furuta
This Miniature Imagine Choco Egg Antique Doll Figurines from Kaiyodo Look Like Realistic!!
Limited Product!!
Product name : CART BABY DOLL
Collection : Mini figure model Choco Egg ChocoQ Kaiyodo
Produce by : Furuta Kaiyodo
Distribution by : Kaiyodo Choco Egg ChocoQ
Set of : ChocoQ Choco Egg Antique Doll Museum Serie 2 Furuta
Size : 2.1 inches x 1.8 inches x 1.4 inches (Estimate size please contact seller for information of actual size)
Color : full color
Type : PVC
Set : 1 Pcs
Weight : 20 g/Pcs (Estimate Weight)
***This item come with small part***
***Not for Children***


Shipping time : Ship out from our store within 1 business day
Estimate time to arrive : ASIA : within 10-14 days, EUROPE : within 14-21 days, US & CANADA : within 21-28 days (SOME CASE MAY BE LATE BY YOUR CUSTOMS)
Please Make sure you accept our policy before purchase.
For more information Please contact : srunthus@gmail.com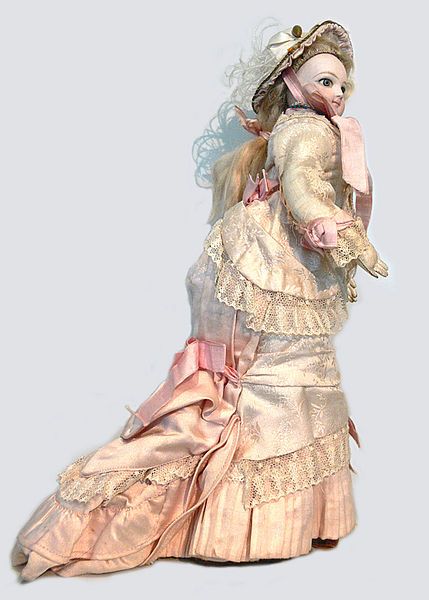 Antique doll Figurines Choco Egg Furuta

A doll is a model of a human being, often used as a toy for children. Dolls have traditionally been used in magic rituals and religious from all over the world, and traditional dolls materials like clay and wood are in North and South America, Asia, Africa and Europe. The first documented dolls back to the ancient civilizations of Egypt, Greece and Rome. Dolls used as toys was documented in Greece around 100 AD. She did a crude, rudimentary toys and expensive technology. Production modern doll has its roots in Germany dates back to the 15th Century. With industrialization and the emergence of new materials like porcelain and plastic, dolls were increasingly mass produced. During the twentieth Century dolls became increasingly popular as collectibles.
Early history and traditional dolls
The first dolls were made from available materials such as clay, stone, wood, bone, ivory, leather, wax, etc. Archaeological evidence places dolls as a candidate for oldest known toy line. Wooden paddle dolls have been found in Egyptian tombs, which is now back as 2000 BC. Dolls with movable limbs furniture and clothing of at least 200 BC. Greek dolls were made of clay and articulated at the hips and shoulders. There are stories of ancient Greece around 100 AD, dolls for girls have been used to show how a toy. In Rome dolls made of clay, wood or ivory were. Dolls in the graves of Roman children were found. Like children today, the younger members of Roman civilization they dress their dolls in the latest fashion. When Greek and Roman girls got married, they would dedicate their doll to a Goddess. Rag dolls are traditionally home-made from spare scraps of cloth material. Roman rag dolls have been found in 300 BC.
Traditional dolls are sometimes used as a toy for children, but can also be spiritual, magical and ritual value. There is no dividing line between spiritual dolls and toys. In some cultures dolls that had been used in rituals were given to children. They were also used for the education of children, and as a carrier of cultural heritage. In other cultures dolls were considered too laden with magical powers to allow children to play with them.
African dolls are used to teach and entertain, they are supernatural intermediaries, and are manipulated for ritual purposes. Their shape and costume vary according to region and custom. Frequently dolls are handed down from mother to daughter. Akuaba are wooden dolls fertility rituals from Ghana and nearby. The best known are the Akuaba the Ashanti people Akuaba which have large, disc-shaped heads. Other tribes in the region have their own distinctive style Akuaba.
There is a rich history of traditional Japanese dolls Dogu figures (8000-200 BC) and statues serious Haniwa (300-600 AD). By the eleventh century dolls were used as toys, for the protection and used in religious ceremonies. During Hinamatsuri, the festival of dolls hina dolls are displayed. These are paintings from straw and wood, and dressed in elaborate, multi-layered textiles. Dolls Daruma dolls are spherical bodies with red and white faces without pupils. They represent Bodhidharma, the East Indies, the founder of Zen and used as pendants. Wooden dolls have no arms or legs, but a large head and cylindrical body, what girls.
The use of an effigy cast a spell to lead someone documented in Africa, the cultures of Native Americans and Europeans. Examples of such magical devices are the cone and the European nkisi or bocio of West and Central Africa. In European folk magic and witchcraft cone dolls are used to represent a person, for that person to clarify. The intention is that whatever actions are performed in the image, the theme will be transferred based in sympathetic magic. The practice of so-called needles in voodoo dolls have been associated with African-American Hoodoo folk magic. Voodoo dolls are not a feature of Haitian Vodou religion, but they are portrayed as such in popular culture, and stereotypical voodoo dolls are sold to tourists in Haiti. Probably the concept of voodoo doll in popular culture is influenced by European dolls cone. A kitchen witch is a fungus native to Northern Europe. Looks like a witch or a stereotypical woman and is displayed in residential kitchens as a means to provide good luck and ward off evil spirits.
Hopi Kachina dolls are effigies made of poplar, the characteristics of the ceremonial Kachina, the masked spirits of the Hopi Native American tribe embody. Kachina dolls are objects to be appreciated and studied to know the characteristics of each Kachina. Inuit dolls are made of soapstone and bone tissues performed in collaboration with the Inuit people. Many are covered with animal fur or skin. Their clothing articulates the traditional style of dress necessary for cold winters, wind and snow to survive. Dolls tea Innu people were filled with tea for young girls to carry on long journeys. Apple dolls are traditional North American doll with a head made of dried apples. In Inca mythology Sara Mama was the goddess of grain. He was with corn grown in multiples or similar strange connected. These strange plants sometimes dressed as dolls mother Sara. Corn husk dolls are traditional Indian dolls made from dried leaves or husk an ear of corn made. Traditionally, it is not a face. The production of corn husk dolls was accepted by the first European settlers in the United States. The early settlers also made rag dolls and wooden dolls carved called Penny Woods. The última muñeca, or "the last doll" is a tradition of the Quinceañera, the celebration of the fifteenth birthday of a girl in some parts of Latin America. During this ritual, the Quinceañera failed to say a doll from her childhood that is no longer in need of such toys. In the United States, Doll Making, a sector in 1860, after the Civil War.
Matryoshka dolls are traditional Russian dolls. They consist of a series of cables figures interlocking wood, and open nest. The first set was carved in 1890. Traditionally the outer layer is a woman, dressed in a sarafan, a long and shapeless traditional Russian dress jumper peasant. The figures may be inside of both sexes, smallest, innermost doll is typically a child from a single piece of wood. The painting of each doll can be processed. The dolls often follow a theme. Apart from the typical traditional peasant girls, the themes vary from fairy tale characters to Soviet leaders.
In Germany clay dolls have been back in the 13th century and Documents Doll forested make the 15th Century. From about 15 Century, increasingly elaborate dolls were made for the display of the Nativity, especially in Italy. Dolls with detailed, fashionable clothes were in France in the 16th Century sold, even if their bodies were often built around. The German and Dutch peg dolls of wood were made cheaply and easily, and they were popular games for the poorest children in Europe dates back to the 16th Century. Wood remains the dominant material for dolls in Europe until the 19th century His. By 18:19 Century Wood was always in combination with other materials, such as leather, wax and ceramic structures, more articulate. No one knows when the first puppet glass eyes, but it was the dominant brown eye for the dolls until the Victorian era when blue eyes became more popular, inspired by Queen Victoria.
BISQUE DOLL Figurines ตุ๊กตาพอชเชเลน Choco Egg Furuta

ตุ๊กตา porcelain ของยุโรปสมัยก่อน หรือตุ๊กตา porcelain BJD คะที่เพิ่งเห็นมา ถ้าเป็น PORCELAIN รุ่นใหม่ๆ ก็คงเป็น PORCELAIN ตามที่เขาบอก ถ้า DOLL ARTIST หรือ ARTISAN ที่ทำอยู่ใน EU เขาก็ต้องบอกความจริงเรื่องวัตถุที่ใช้ไม่รู้ว่าที่อื่นก็เหมือนกันหรือเปล่า แต่จับหรืออุ้มดูก็คงรู้ว่าใช่ PORCELAIN ไหม แต่อาจเคลือบไม่เคลือบเงาก็ได้และต้องเช็คว่าทุกส่วนเป็นPORCELAINด้วยไหม
ตุ๊กตา porcelain หรือ ชื่อเรียกแบบเดิมๆเลย คือ Bisque ซึ่งเป็นภาษาฝรั่งเศส แปลว่า BISCUITS (ก็คือ คำที่คนเมืองผู้ดีใช้เรียก COOKIESนั่นเอง ส่วนคนอเมริกัน ก็จะเรียกว่า COOKIES) BISCUITS แปลตรงๆหมายความว่า TWICE-COOKED (ทำให้สุกสองครั้ง) ที่เรียกว่า BISQUE DOLLS คิดว่าเพราะผิวตุ๊กตาเป็นเหมือนผิวคุ้กกี้ มีความด้านและคล้ายผิวมนุษย์ คนนิยมกันมากในฝรั่งเศสและเยอรมันระหว่างปี 1860-1900 ถ้าดู ANTIQUE PRICEGUIDE ก็จะเห็นว่าตุ๊กตา BISQUE ที่ราคาแพงมากๆจะมาจากฝรั่งเศส หรือ เยอรมันในช่วงนั้น เช่น ตุ๊กตา BISQUE ของบริษัท Jumeau, Bru, Gaultier, Rohmer, Simone และ Huret แต่ตุ๊กตาพวกนี้ก็มีอีกชื่อว่า CHINA DOLLS ด้วยเพราะต่อมาพอเริ่มใช้ Porcelaine ก็จะเริ่มเคลือบผิว เหมือน เครื่องเคลือบดินเผานั่นเอง
ถ้าจะพูดกันตรงๆ ก็อาจเปรียบได้ว่า ตุ๊กตา porcelaineเป็นต้นตระเราลของ BJD ในปัจจุบัน เพราะเป็น FASHION DOLLS ในแบบสาวๆแต่งตัวตามสมัยนิยมและสำหรับผู้ใหญ่ที่มีฐานะซื้อให้ลูกหลานเล่น ในการผลิตเขาจะปั้นชิ้นส่วนตุ๊กตาก่อน แล้วทำพิมพ์ เพื่อใช้หล่อตุ๊กตา แล้วก็นำเอา เซรามิกไปหล่อในพิมพ์ที่อุณหภูมิ 1260 °C (2300 °F) แล้วก็นำชิ้นส่วนมาประกอบกัน ผูกติดกันด้วยเส้นหนังหรือผ้า ส่วนใหญ่จะเป็น PORCELAIN เฉพาะที่หน้า ส่วนอื่นๆ อาจเป็น ไม้ หรือ Papier-mâché เพราะไม่งั้นแขนคนเล่นกล้ามขึ้นล่ำแน่ และสมัยก่อน การผลิต PORCELAIN ทำชิ้นส่วนหรือ ของชิ้นใหญ่ไม่ใช่เรื่องง่ายๆ ตุ๊กตา PORCELAIN จะมีผิวที่สวยงามจากการระบายสีให้เหมือนจริง รุ่นแรกๆจะระบายสีผมด้วย แต่ต่อมาก็ใช้ MOHAIR หรือ ผมมนุษย์ ถ้าสังเกตการผลิตตุ๊กตา PORCELAIN BJDในสมัยปัจจุบันในกลุ่ม ARTISAN เล็กๆชาวยุโรปตะวันออกก็จะรู้ว่าเป็นวิธีเดียวกัน หรือ คล้ายกันมาก
พอช่วง 1900 Jumeau และ Bru ฯลฯ ได้เริ่มผลิตตุ๊กตา French Bébés ซึ่งเป็นตุ๊กตาเลียนแบบเด็กแต่งกายตามสมัยนิยม ตุ๊กตารุ่นแรกก็หายไป เพราะเทคโนโลยีที่พัฒนาขึ้น บริษัทตุ๊กตาของเยอรมันบางบริษัทก็เริมผลิตตุ๊กตาจาก PORCELAIN ทั้งหมดที่ขยับแขน ขาและ คอได้ และมีการแสดงสีหน้าท่าทางเหมือนมนุษย์ ตุ๊กตาพวกนี้จะมีราคาสูงมากในหมู่นักสะสม แต่คาดว่า เพราะเป็นของที่เด็กๆใช้เล่นจริงๆ ก็จะเหลือที่สมบูรณ์แบบ ( mint) ยากมากๆ ต่อมาก็เริ่มมีการผลิตตุ๊กตา PORCELAIN ขายเป็นจำนวนมาก คุณภาพก็ตกต่ำลง พอมีการผลิต CELLULOID ขึ้น ตุ๊กตา PORCELAIN ก็หายไป คาดว่าตุ๊กตา KEWPIE ของอเมริกัน เป็น ตุ๊กตา PORCELAINรุ่นท้ายสุดในยุคนั้น
ตั้งแต่ช่วงปี 1980 ก็มีการนำ ตุ๊กตา PORCELAINกลับมาผลิตอีกครั้ง โดยเริ่มต้นที่เมืองจีน แต่คุณภาพไม่ค่อยดี และผลิตเพื่อนักสะสมเท่านั้น ถ้าต้องการข้อมูลเพิ่มลองค้น WIKI หรือ สั่งหนังสือจาก AMAZON มาอ่านเพิ่ม หรือ ดู รายการ Antique Roadshow ผ่าน BBC iPlayer คาดว่าน่าจะดูได้ในเมืองไทย หรือมีใน CABLE แล้วคะ คือ บ้านที่เมืองไทยยังอยู่หลังเขาอยู่
ตุ๊กตา BISQUE รุ่นแรกๆ ( ผิวด้าน) มีราคาตั้งแต่ประมาณ 300 ดอลลาห์ถ้าซื้อรุ่นที่หาง่ายหน่อย เช่น รุ่น HIGHLAND MARY ไปจนถึงประมาณ 200000 ดอลลาห์ ลองคูณ 32 ดูนะคะ พยายาม GOOGLE หาตุ๊กตาตัวที่แพงกว่าบ้านบางหลังแต่ยังหาไม่เจอ แต่ที่แพงสุดๆจะเป็นพวกที่เหมือนเด็กจริงๆและมีสีหน้าท่าทางที่แสดงออกเหมือนมนุษย์ มีรายละเอียดปราณีต ผิวก็ไม่มีตำหนิเกินไป (ถ้าร้าวก็เสียมูลค่าไปครึ่งหนึ่ง)ค่าซ่อมบำรุงจะสูงมาก ใบหน้าข้อมือ และ ชา ก็ จะเป็น BISQUE ทำจากหนังสัตว์ แต่ก็จะโพสท่าได้เก่งเพราะเป็นต้นกำเนิดของ BJD ตุ๊กตา FRENCH BEBE จะถูกกว่าตุ๊กตา FASHION ตุ๊กตา FASHIONของ HOURETS (ฝรั่งเศส) จะมีราคาประมาณ 20000-30000 ดอลลาห์ถ้ามีชุดครบและสภาพดี FRENCH BEBEของ JUMEAU และ BRU จะแพงกว่าของบริษัทอื่นที่ทำขายเป็นจำนวนมาก เช่น SFBJ หรือ ARMAND MARSEILLE ของ ฝรั่งเศส นอกไปจาก JUMEAU และ BRU บริษัทตุ๊กตาอื่นๆในฝรั่งเศสจะใช้หัวตุ๊กตาที่ผลิตในเยอรมนี
ตุ๊กตารุ่นหลังๆควรเรียกอย่าง้ป็นทางการว่าตุ๊กตา PORCELAIN เพราะผิวเคลือบเป็นเงา นักสะสมพันธุ์แท้จะมี SNOBBERY สูง จะต้องใช้ศัพท์เทคนิคให้ถูกด้วยไม่งั้นอาจหาไม่เจอใน EBAY หรือทึ่เว็บอื่นๆ ตุ๊กตา PORCELAINรุ่นหลังๆที่มีค่าก็เป็นของ MADAME ALEXANDER และ หนูน้อย KEWPIE ซึ่งมีบางรุ่นที่มีราคาประมาณตัวละ 12000 ดอลลาห์
ขอบคุณข้อมูลจาก blythailand.com